Collection of Recyclable Materials
Industrial, Commercial and Institutional (ICI) sectors
Did you know that you may be eligible for a door-to-door collection service for your recyclables, even as a tenant?
Did you know that reducing your waste can give you major savings just by lowering the quantity of your trash?
Did you know that there are specialized collection services for large producers of recyclable materials?
Did you know 41% of residual materials are produced by the industrial, commercial and institutional (ICI) sectors in Quebec?
The optimization project for collecting recyclable materials for the industrial, commercial and institutional (ICI) sectors continues in 2022.
For more information, please contact Nicola Rivest, Environmental Development Officer, by email at nrivest@mrcvs.ca or by phone at 450-455-5753 x2262.
Evaluating waste materials is a serious challenge. Orientations and governmental reuse goals outline the process under the Politique québécoise de gestion des matières résiduelles (Residual Materials Management Policy of Québec)
In order to respond to the Politique québécoise de gestion des matières résiduelles, the MRC de Vaudreuil-Soulanges ensures the application of the measures of its Plans de gestion des matières résiduelles in its territory. Several measures are aimed at ICI companies.
Want to know more? Do you want to educate your employees about recycling? The MRC de Vaudreuil-Soulanges has developed a toolkit for you:
"Recycling Champions" in the region
As part of the project to optimize the collection of recyclable materials from the ICI, the MRC de Vaudreuil-Soulanges presents the region's "Recycling Champions". This initiative, under the slogan ICI on voit vert, aims to encourage other ICI in the region to follow suit.
Video clips have been produced to present these champions and their actions to reduce their impact on the environment.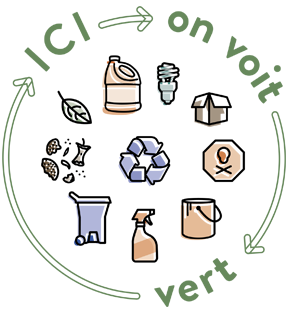 « Sur chaque étage, nous avons une salle de tri avec une chute à recyclage et une chute à déchets dans laquelle nous avons également placé des bacs pour le compost et des boîtes pour récupérer les canettes »
– Guylaine Lacasse, directrice générale de Sélection Retraite Vaudreuil  situé à Vaudreuil-Dorion
« On a plusieurs plans pour récupérer les matières résiduelles, on récupère la majorité des pièces électroniques en les réparant. On a aussi une machine à mâcher le carton, on récupère les emballages des marchandises reçues pour emballer nos produits finis lors de l'expédition »
– M. Guy Buisson, président de Technostrobe situé à Coteau-du-Lac
« Nous avons bâti un bloc sanitaire alimenté à l'énergie solaire qui récupère l'eau de pluie qui nous permet de prendre beaucoup moins d'eau potable pour des choses qui ne sont pas nécessaires »
– Mme Mélanie Poirier, directrice générale du Camping Choisy, Rigaud
« Au Collège Bourget, on fait du recyclage depuis plus de 20 ans. On a des comités verts, des élèves qui s'impliquent et qui font la collecte du recyclage dans les bureaux administratifs et chacune des classes »
– M. Roch Bourbonnais, répondant de niveau des élèves de 3e secondaire du Collège Bourget, Rigaud
« Avec l'aide d'un consultant en pharmacie qui s'appelle Maillon vert, avec notre travail et celui de tous les employés, nous avons réussi à obtenir le titre écoresponsable »
– Mme Emmanuelle Laflamme, pharmacienne propriétaire affiliée au réseau Brunet de la Pharmacie Emmanuelle Laflamme, Vaudreuil-Dorion
« Nous avons très à cœur le service à la clientèle, le bien-être de nos employés et évidemment la qualité de l'environnement. Nous sommes fiers d'avoir mis en place plusieurs mesures pour optimiser la gestion de nos matières résiduelles »
– Mme Nathalie Léger, directrice opérationnelle de Metro Plus Fordham, Saint-Zotique
« À la réception des dons à L'Actuel, nous trions les matières recyclables en deux catégories, soit les articles et les vêtements. Les deux passent par des critères de qualité précis de manière à déterminer ce qui sera vendu à la Boutique-Friperie et ce qui sera remis au recyclage »,
– Mme Nicole Bouthillette, chef des opérations au Centre d'action bénévole L'Actuel, Vaudreuil-Dorion
« On fabrique du polystyrène expansé et on est capable de recycler tout ce qui est généré à l'interne comme rejet. On inclut également ce que nos employés nous apportent et ce que l'on peut récupérer à la municipalité de Terrasse-Vaudreuil. »
– M. Charles Bourbonnais, directeur général de Polymos, Terrasse-Vaudreuil
Small industrial, commercial and institutional (ICI) corporations of the territory (with quantities comparable to the residential sector) are permitted to use the facilities of the following ecocentres in order to dispose of materials from construction, renovation and demolition (CRD):
Écocentre de Vaudreuil-Dorion, 2800 Rue Henry-Ford, Vaudreuil-Dorion
Écocentre de Rigaud, 32 Rue de la Coopérative, Rigaud
The same terms as citizens apply, excluding the free first 12 cubic metres. For non-CRD materials or for more information, call 450-455-5434.
Tax on Quarries and Sand Pits
Municipal laws require municipalities in Quebec to form a local or regional roads fund and collect legally set fees from operators of sandpits and quarries on its territory in order to address certain consequences of the operation of these sites, such as damage caused to road infrastructures. In Vaudreuil-Soulanges, the MRC is responsible for managing this fund and for allocating the collected fees to municipalities.
The amount of the fees is set annually according to a law and is calculated based on the quantity (in metric tons or cubic metres) of transported material that will possibly travel on municipal public roads. These fees are payable directly to the MRC. For 2023, fees were set at $0.64 per metric ton / $1.22 per cubic metre / $1.73 per cubic metre for dressed stone.
Operators must report to the MRC three times a year the quantities of material they have produced and that have been transported offsite by completing the form below. The MRC verifies the operators' reports, invoices payable duties and ensures collection. A team of inspectors travels the territory regularly to ensure that all operators report their activities.