Photo credit: Christian Gonzalez
Schéma d'aménagement et de développement
The Schéma d'aménagement et de développement révisé (SADR) is an essential tool for guiding the organization and development of the territory of the MRC de Vaudreuil-Soulanges. It leads the actions of different stakeholders according to governmental guidance and expectations as well as those contained in the Montreal Metropolitan Community's Plan métropolitaine d'aménagement et de développement.
En vertu de l'article 57 de la Loi sur l'aménagement et l'urbanisme, la MRC de Vaudreuil-Soulanges publie un résumé de son Schéma d'aménagement et de développement révisé troisième génération (SADR3), entré en vigueur le 2 février 2023.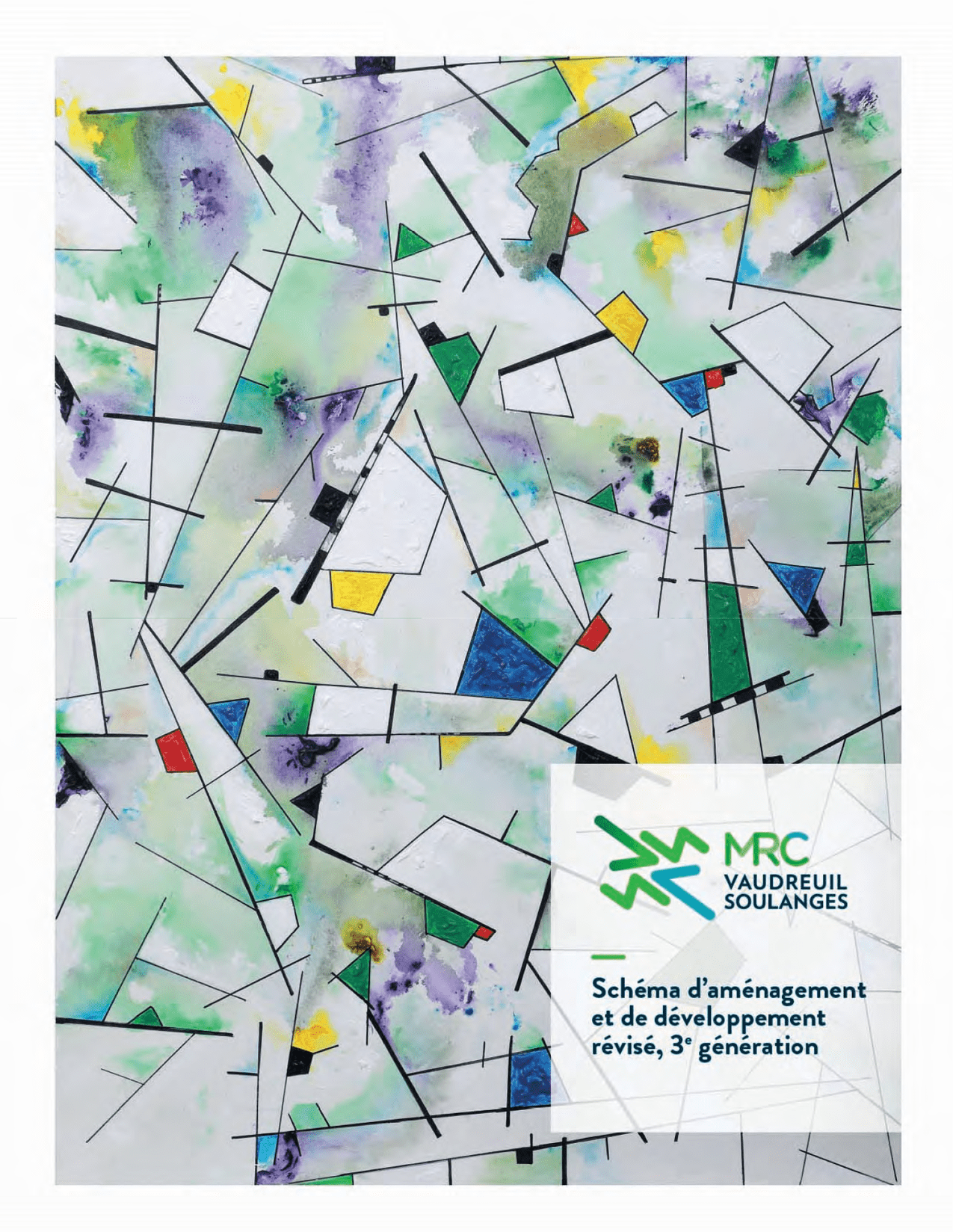 Le SADR3 est le fruit de trois années de concertation régionale et reflète les aspirations du milieu entre autres en matière d'aménagement du territoire, de développement économique, de protection de l'environnement, de la mise en valeur des territoires ruraux et urbains, de la mise en valeur de nos équipements régionaux, de l'implantation de l'hôpital régional et du pôle santé et de la protection de notre patrimoine bâti et de notre patrimoine immatériel. Il harmonise la planification du territoire des municipalités faisant partie de la MRC et préconisant des actions.
Le schéma est un outil de :
Connaissance pour les élus et les citoyens; il informe sur les enjeux particuliers et les principales caractéristiques socioéconomiques et physiques du territoire;
Concertation entre les municipalités, la MRC, la Communauté métropolitaine de Montréal et le gouvernement afin d'avoir une vision commune et défendre des projets;
Mise en œuvre qui recense les échéanciers, les partenaires et les diverses modalités de réalisation des projets privilégiés sur le plan régional.
Le SADR3 est structuré en trois parties :
Partie 1 : Le territoire et sa planification
Le concept d'organisation spatiale;
La présentation du territoire et des secteurs d'affinités.
Partie 2 : Les enjeux, les orientations et les mécanismes de mise en œuvre
La gestion optimale du territoire et la qualité des milieux de vie;
Le territoire et les activités agricoles;
Le développement économique et les lieux d'emplois;
La valorisation du territoire : le récréotourisme, la culture et le patrimoine;
L'environnement et les milieux naturels;
Le mont Rigaud;
Le parc Régional du Canal de Soulanges et ses abords;
Le transport et la mobilité durable;
Les contraintes, la gestion des risques et les réseaux majeurs;
Les grandes affectations.
Partie 3 : Les annexes descriptives
Les annexes descriptives.
Sustainable forest management involves considering the forest as an ecosystem where a variety of components interact with each other. Therefore, the forest generates and influences several resources including wood, wildlife and their habitat, water, sun, and scenery. In Montérégie, many MRCs have been adopting logging regulations since 1998. Black ice and new trends towards liquid manure spreading in agricultural environments are factors that accelerate deforestation, as demonstrated by three studies completed since 2002 that covered the Monteregian territory. These assessments also apply to the MRC de Vaudreuil-Soulanges. Furthermore, in addition to the agricultural context, the MRC is facing accelerated development of its infrastructures and urbanization. The natural environments of the eastern portion of the territory, being in a high-development zone of the Montreal region, are more subject to this type of pressure. In this context, the MRC de Vaudreuil-Soulanges is proposing measures for the protection and improvement of woodlands. The Politique de l'arbre et des boisés was written as part of this proactive step that aims to revitalize regional initiatives in terms of improving natural heritage.
Plan de développement de la zone agricole
The MRC de Vaudreuil-Soulanges created a Plan de développement de la zone agricole for the 23 municipalities in its territory. This planning tool begins by briefly assessing the agricultural situation in the territory, and then proposes concrete interventions that contribute to sustainable development, longevity, and the standing of the MRC's agricultural activities. The creation of the Plan de développement de la zone agricole improves understanding of the territory and its agricultural activities, creates a new dynamic between the stakeholders of the area, establishes an appropriate place for conversations about how to define a joint vision for agriculture, and determines the best ways to fully take advantage of the agricultural potential and undertake concrete measures.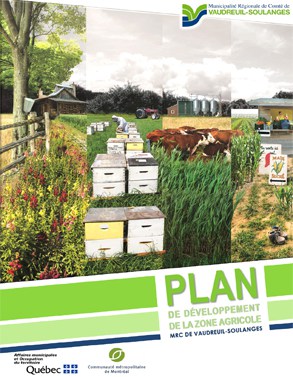 The goals of the Plan de développement de la zone agricole are to:
Improve agricultural businesses and their products;
Target growth or the diversification of production, products, business models, or marketing methods;
Promote awareness about the many uses for agriculture;
Encourage development of complimentary activities such as agricultural tourism and on-site food production.