Photo credit: Josiane Farand
Politique culturelle dans la voie du développement durable 
Adopted in 2015 by the MRC de Vaudreuil-Soulanges council, the MRC's Politique culturelle dans la voie du développement durable is the center point for the MRC's action strategy concerning the dissemination of culture. Supported by a plan of action, this policy allows for the creation of numerous projects and illustrates the passion that the region's creators embody.
The MRC de Vaudreuil-Soulanges' Politique culturelle dans la voie du développement durable primarily touches on six intervention pathways supported by guidelines and goals:
Recognizing culture as a vehicle of sustainable development and reinforcement of regional identity;
Strengthening the roots of and encouraging the expansion of cultural activities in collaboration with key economic, social, and environmental players;
Recognizing and supporting the practice of amateur and professional cultural activities;
Protecting and enhancing the rich cultural and historic regional identity;
Encouraging collaboration and partnership in terms of the development and promotion of arts and culture;
Supporting the cultural milieu by understanding the impacts of cultural activity and developing ways to generate increase public participation and encourage cultural acquisition to increase the cultural and economic vitality in the region.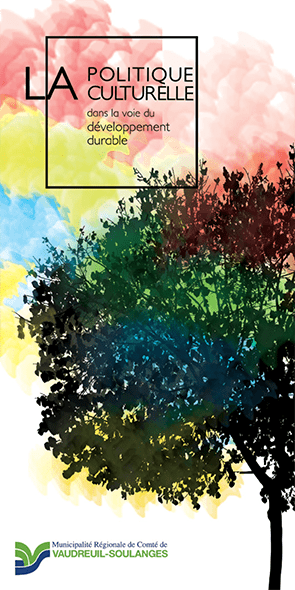 Since January 2017, the Conseil des arts et de la culture de Vaudreuil-Soulanges (CACVS) has been the organization responsible for establishing the MRC de Vaudreuil-Soulanges' Politique culturelle.
Consequently, the organization is now tasked with planning regional cultural development in collaboration with other domains. The CACVS works closely with municipal, social, economic, environmental and cultural domains in order to support the spread of the arts and culture in Vaudreuil-Soulanges.