Sustainable Social Development

Politique de développement social durable
This policy allows for local and regional action in order to support and develop the partnership between the organizations in the area. Its goal is to promote the continued improvement of citizens' quality of life and the well-being of the communities in Vaudreuil-Soulanges with an integrated and sustainable perspective.
Since 2011, the Table territoriale de développement social durable has gathered some twenty organizations in the region together, and worked on developing dynamic and inclusive communities in a safe and healthy way.
The Politique de développement social durable is the result of a consulting process in which 121 distinct organizations and 80 citizens in the territory participated.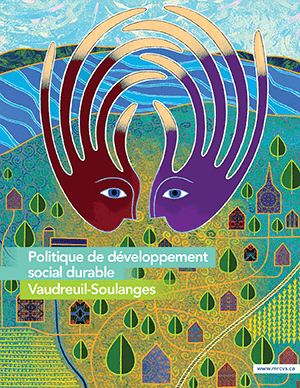 Update
Spring 2018 marked the tenth anniversary of the adoption of the Politique de développement social durable in Vaudreuil-Soulanges. At the time, the council of the MRC commissioned the Table territoriale de développement in order to update the policy.
More than 601 citizens from the 23 municipalities weighed in on themes such as transportation, housing, and healthcare access. The information gathered will be used to create a diagnostic snapshot of the territory and develop a new policy and plan of action to respond to the main challenges bearing on the improvement of the quality of life of the people in Vaudreuil-Soulanges for the years to come.